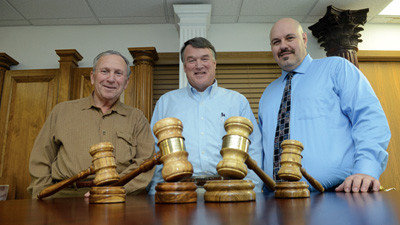 Somerset Door & Column President Dean Hottle, his son Bruce Hottle and SDC General Manager Bob McVicker pose behind gavels made from wood from the Shuster farm. On the left are gavels made of hickory hewn from an old barn beam and on the right are two carved from locust firewood cut on the property. The larger gavels are ceremonial and the smaller ones are those to be put to actual use. (Daily American photo by Roger Vogel / January 22, 2013)
For additional details, visit www.dailyamerican.com.
Bruce Hottle, Congressman Bill Shuster and Dean Hottle at the presentation of gavels made by Somerset Door & Column Company.